Ian McGregor who cofounded Farmstead Cider with Orion Bellorado holds the title of being both the first commercial cidery in the state of Wyoming and as of this episode published in 2022 remain the sole cidery in the state. These enterprising makers source their apples from residential in the area which have an abundance of crab apples that were planted for homeowners. They are currently planting an orchard, but most of the apples today are sourced from homeowners.
311: Saving Bears by Making Cider
Saving Nuisance Bears by Making Cider
A grant helped to fund their task of removing apples from as many local properties, as possible. The homeowners were happily to have the apples harvested which helped to reduce the number of bear/human conflicts in the area. Farmstead Cider ferments these high-altitude crab apples in a lovely assortment of cider, which by the way are fermented with the wild/ambient yeast.
Farmstead Apples
The apples are tart, tannic, sweet, and delicious, and they help our ciders stand out. We can credit the bears for their individuality. We now pick apples all over Jackson Hole, assisting in the conservation of animals and apple trees while producing small-batch hard ciders that represent our unique surroundings!
Bear 399
Local Bear 399 is a favored grizzly who most recently had 4 cubs and is one of the key bears who specifically encouraged the community to work with Farmstead Cider. What bear loving person wouldn't want to save Bear 399!
Wild Ferments with no Sulfites
Farmstead ferments all the ciders with only the wild yeast. They found that even with the temps go way down the cider continues to bubble along.
Expect low acidity and high brix
Made with primarily bittersweet crab
The tannins are pronounced and well balanced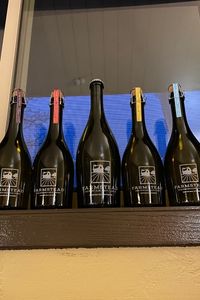 Unique Apples Names and Terroir
Because most of the apple trees are unidentified the trees and their fruit are given unique names such as Highschool Purple, Rafter Jay or Red Canyon Nan. Since the trees are named after a specific tree in a specific area everyone knows where the harvest will be that day and it designs a specific terroir for that site.
311: Saving Bears by Making Cider
Contact for Farmstead Cider
Website: https://farmsteadwyo.com/
Order online: https://farmsteadwyo.com/bottle-shop
Address: 4125 Pub Place Suite #4 Jackson, WY 83001
Mentions in this Chat
Support these Sponsors of Cider Chat so they can continue to support this podcast and help you make great cider!
Fermentis

– Yeast and Fermentation Solutions for Cidermakers

Sraml

– Food Processing and Cidermaking equipment specialist

Listen via Spotify app the Future of Agriculture podcast with Cider Chat patron Tim Hammerich
Help Support Cider Chat Please donate today. Help keep the chat thriving!
Find this episode and all episodes at the page for Cider Chat's podcasts.
Haven't downloaded this episode yet? Here it is again for your listening pleasure.