Get organized for the week with these easy and healthy meal prep salads. I'll share tips to keep your salad fresh, best salad dressing containers and help you choose the best meal prep salad recipes to make ahead.
Sign up for my free 10-Day Salad Challenge to get a shopping list and 10 tasty salad recipes from kale salad to potato salad to fruit salad.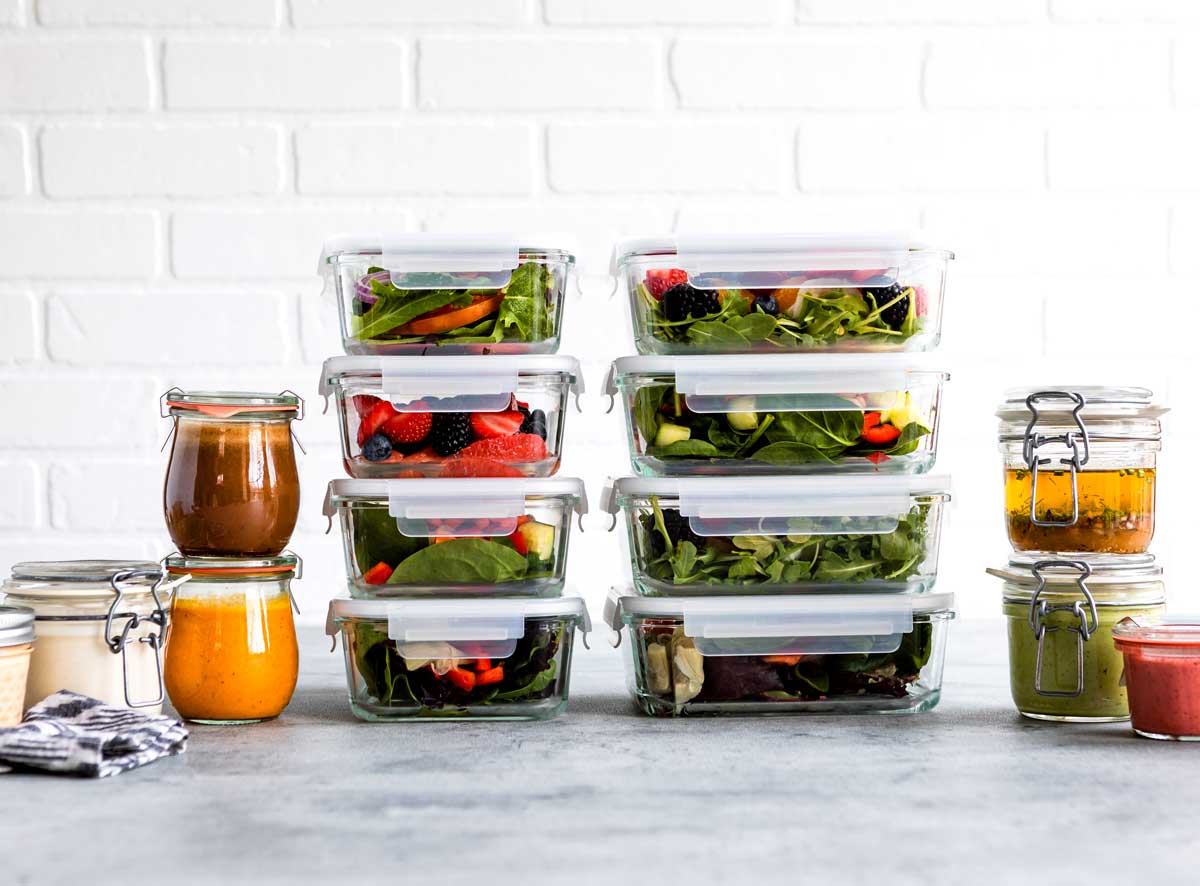 How to Easily Make Salad for a Week
It can be overwhelming planning out a week's worth of salads, yet it doesn't have to be. It all comes down to the prep if healthy habits are what you're after. Prepping can save you time and money, but more importantly it can give you control as you head into a busy week. And let's be honest: every week is mad busy.
Here's a few things to keep in mind when prepping salads:
How many people do I need to prep for? Is it just you eating salads? Maybe your spouse or sister or son wants to do it, too? It's important to keep in mind how many people will be eating the salads so when you prep you have enough stuff.
Will I be eating these at work, home or on the road? Depending on when you'll be eating the salads will dictate which style of containers you use for salad prep.
What recipes do I want to eat? Do you want to repeat salads, use the same dressing each day, have a variety of toppings, etc.
10 Tasty Meal Prep Salads to Try Asap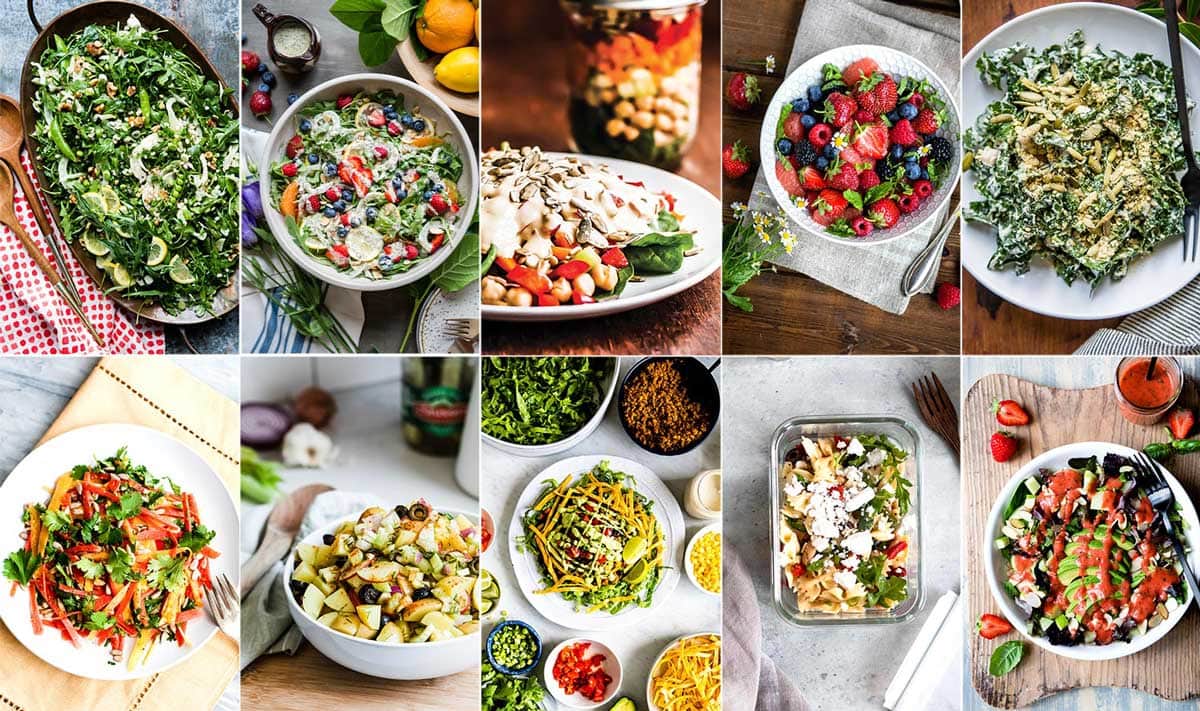 Traditional Salad Recipes
Glowing Greek Salad: This colorful salad is as full of flavor as it is color. Your skin will be glowing after incorporating this dish into your lunch routine, and Mediterranean inspired classic!
Strawberry Arugula Salad: This gorgeous strawberry arugula salad is as delicious as it is beautiful. Topped with a unique vinaigrette, this rockstar salad is for you.
Lemon Arugula Salad: This lemon arugula salad is a feature on any table. It's got unique (yet findable!) ingredients + an elevated flavor profile that makes me feel like I'm at a fancy restaurant. The perfect salad to mix up your lunch routine.
Kale Caesar Salad: This simple salad is the perfect filling lunch. It's made with 100% plants and is both creamy and filling. I love the flavor and bit of the kale paired with the creamy aioli.
Sweet & Crunchy Chickpea Salad: Protein power your afternoon with this delicious, Mediterranean-inspired Chickpea salad. It's super crunchy + filling. Plus this tahini dressing is IT. I love it and know you will too.
Mixed Greens Spring Salad: This hearty mixed greens salad is a great way to load up on several servings worth of fiber-rich veggies + fruit. This dressing is full of flavors that are sure to delight your taste buds while keeping your body fueled + satisfied!
Hearty Mason Jar Salad: This easy-to-assemble, mason jar salad is perfect when you need lunch on the go! Packed with protein, healthy fat, and antioxidant rich pomegranate seeds, this autumn-inspired salad is sure to keep your body fueled through the afternoon.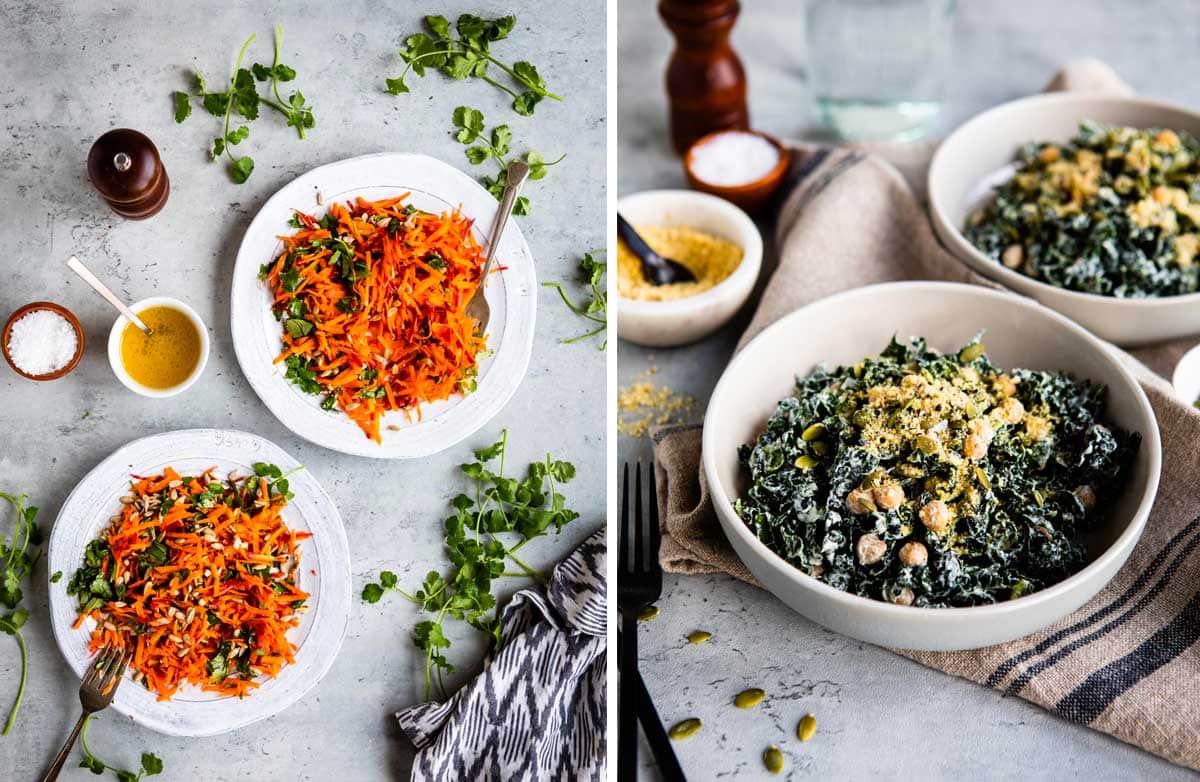 Adventurous Salad Recipes
Crunchy Carrot Salad: This is my plant-powered take on a classic recipe. It is lighter, brighter, and not weighed down by mayo. Serve as-is for a wonderful side dish or double and enjoy as the main event.
Healthy Pasta Salad: Step aside traditional potato salad! A new version is in town and it's delightful. Try this vegan potato salad out on your next gathering and be ready to share the recipe!
Healthy Taco Salad: This healthy taco salad is packed with plant-based whole foods! A crisp corn shell is topped mile-high with crunchy romaine, veggies, and our very own recipe for a vegetarian nut-based taco meat. Mark your calendar and make this for Taco Tuesday!
Bright Berry Salad: This is the perfect dish to bring to Sunday brunch. I try to enjoy all the fresh berries I possibly can while they're here, and this salad brings them alive.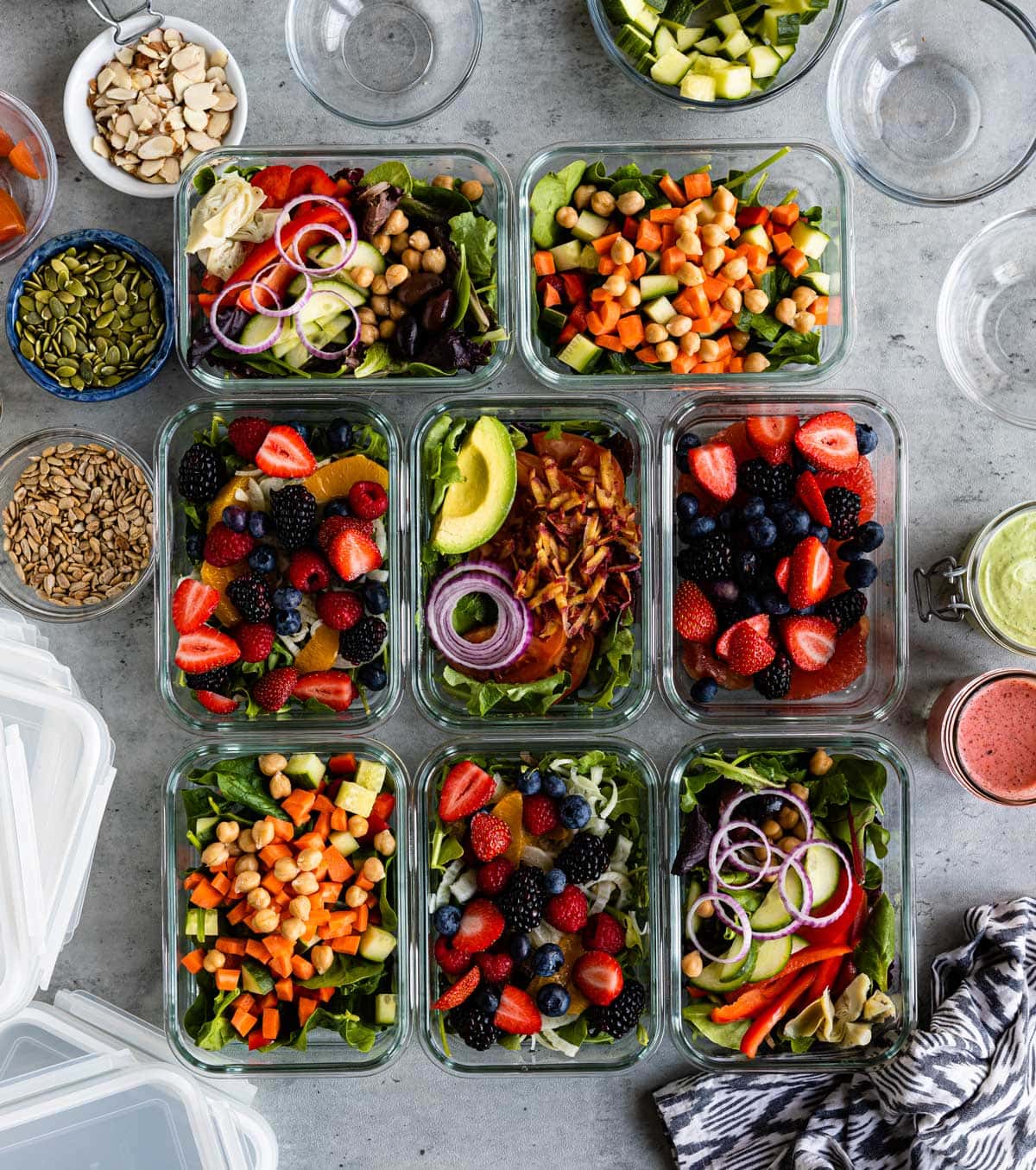 How to Keep Salad Fresh
Leafy greens are quite delicate plants. I can't tell you how many times I've opened a bag of spinach and gagged once the rotten air hit my nose. It can go from "great" to "gross" overnight. Yet leafy greens are the star of the plant-based world and deserve a second change (or third)— trust me!
Here's some tips on how to keep salad greens fresh before you're able to prep:
Plastic tubs: Immediately open the greens and discard out any yellow or discolored leaves. Place a clean paper towel on top of the greens and close. Flip the tub upside down and store in the fridge until ready to use. The paper towel helps absorb some of the water and prevent them from spoiling so quickly.
Tags: Open the bag and discard out any yellow or discolored leaves. Place a clean paper towel inside. Close bag with a clothespin or chip clip.
Leaf lettuce, kale and cabbage: This 5-star Produce Food Storage container with 11,900+ reviews keeps lettuce fresh with a vent, crisp tray and filter. You can also try half gallon Stasher Silicone Bags to store salad.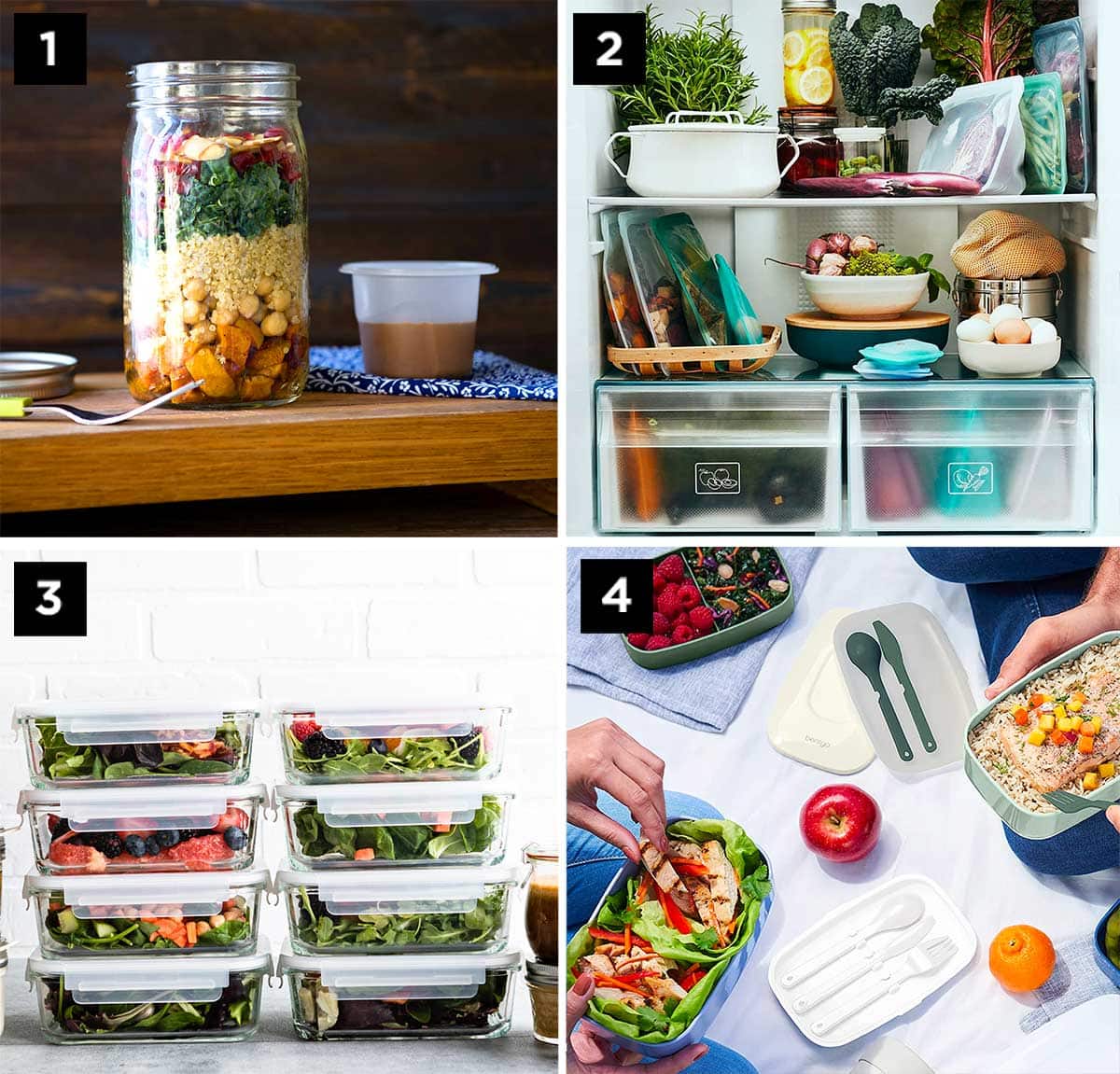 Best Meal Prep Salad Containers
I have an embarrassing collection of salad prep containers. I'm a sucker for new styles and can't pass up anything in my favorite colors (army green and navy blue). The key is that they are air tight, stack nicely and look cute. Here's a few options that have worked well for me:
Quart Mason Jars: I usually store soups, berries and smoothies in these quart size containers, but they do work really well for chopped salads too. They store nicely in the fridge. I drizzle the dressing on top and shake until it's coated every piece of lettuce. Works best if you're eating at home since you'll want to serve on a plate.
Stasher Bags: These are definitely the most space-conscious option. I love how they can stack or sit upright in the fridge. These work best if you're eating salads at home since you'll have to transfer to a plate. As much as I love the concept, cleaning these bags is never fun.
Glasslock Containers: These are the most versatile containers I've ever bought. I love that they are glass and can go in my toaster over or freezer. They work great for salads and stack nicely in the fridge.
Bento Boxes: These reusable all in one stackable containers are aesthetically pleasing and smart design. Great for bringing salads to work —I love the built in fork. I love shaking my salad together with the dressing when using a bento box. If you need something on the go, check out these light weight versions.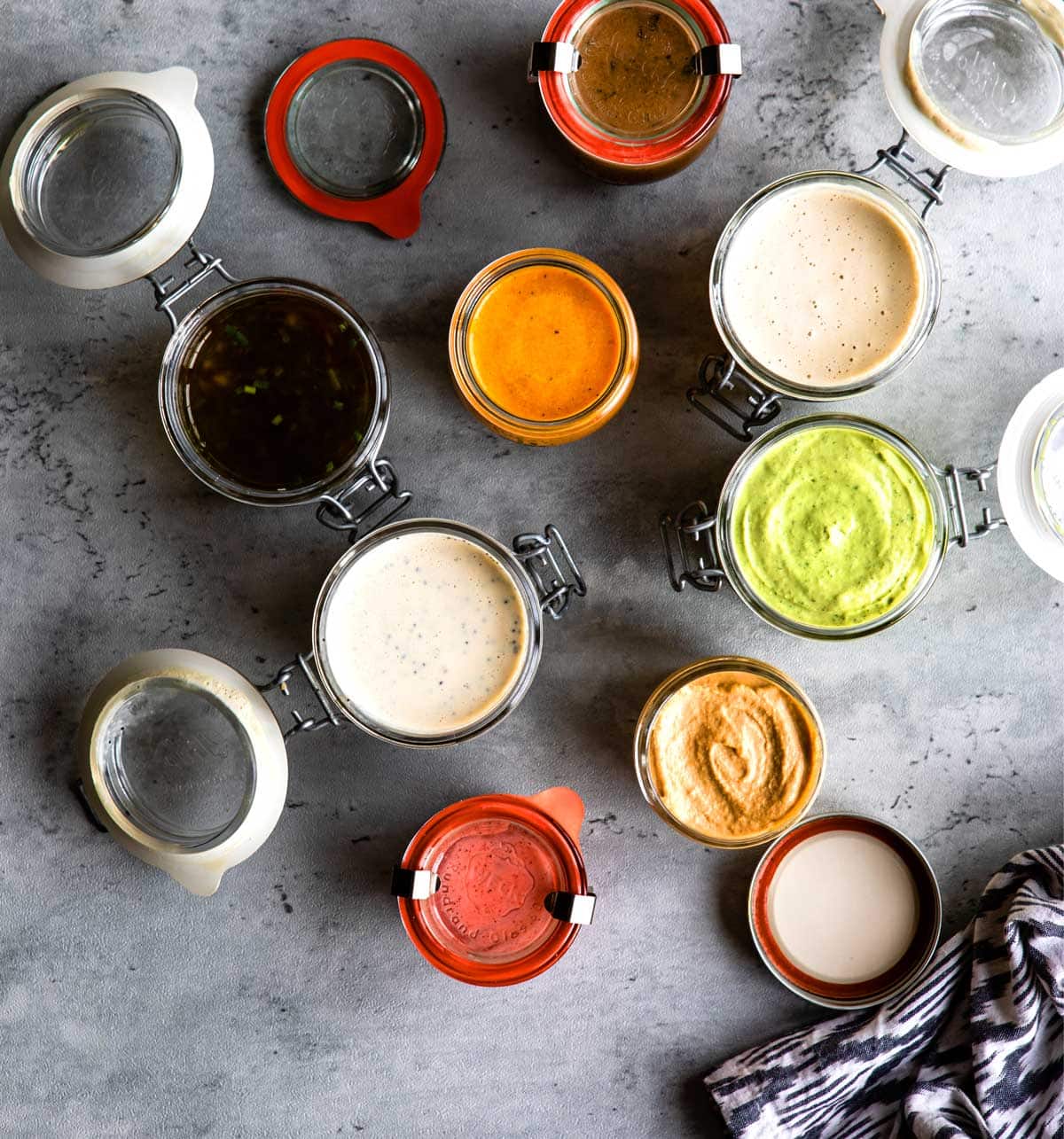 Best Salad Dressing Containers
The key to a good salad is the dressing. I love making my own dressing because the flavor is much more robust and the nutrients are much higher too. Plus, make it once and you can use for a week of salads if you have a recipe you love. Below are some dressing containers that I use when I meal prep salads:
Jelly mason jar: affordable and a great size for dressing. If using vinegar in your dressing, the metal band will rust (so make sure to buy back-up plastic lids to use too). I also use these containers to store my supply of homemade deodorant.
Weck mini mold jars: these elegant petite jars always remind me of the French countryside. Not quite sure why, but I'm thinking it's just the craftmanship and artisan vibe. Turns out they are made in Germany, but I still pretend I'm in France.
Hinge-top glass jars: These 7oz containers seal well and store just the right amount of dressing get you through a few meals. I love how easy they are to stack and seal.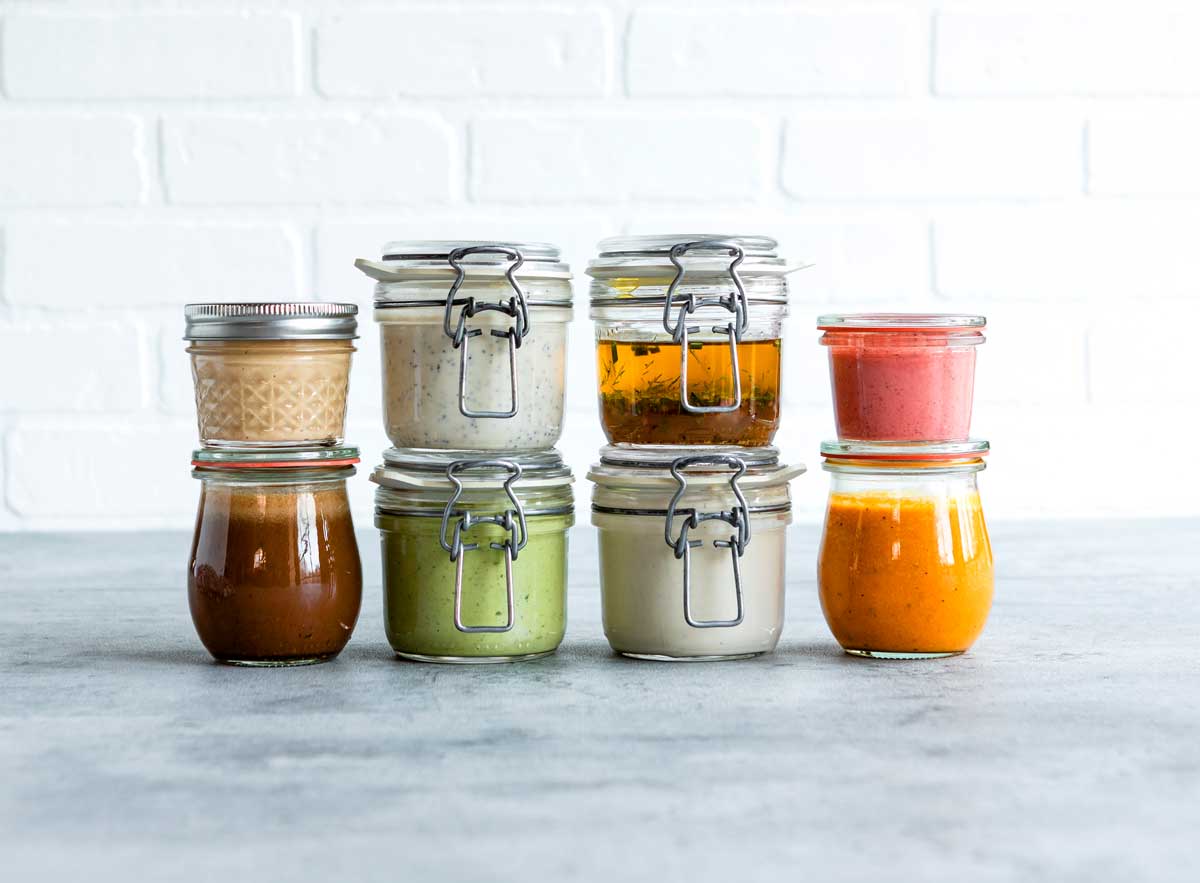 How to Store Salad Dressing
When storing salad dressing, I suggest definitely keeping it in a clear container so you can easily identity each dressing. Salad dressing can be stored in the door of the fridge, stacked on a shelf or even inside the meal prep salad container.
If taking your salad on the go, I suggest keeping it in a lunch box with an ice pack.
Homemade Salad Dressing Recipes
Here's some awesome salad dressings recipes we've created over the years. I love that they can be made in an advanced and enjoyed all week.
Fresh Lemon Vinaigrette: This light and refreshing salad dressing goes wonderfully with fresh mixed greens.
Citrus Tahini Dressing: For a savory protein-rich dressing, this will be your BFF. I've veen obsessed with this dressing from the beginning, and think you will too.
Garlic Lemon Ailoli: Behind every good kale salad is a garlic lemon ailoli. It's the ying in it's yang, if you know what I mean.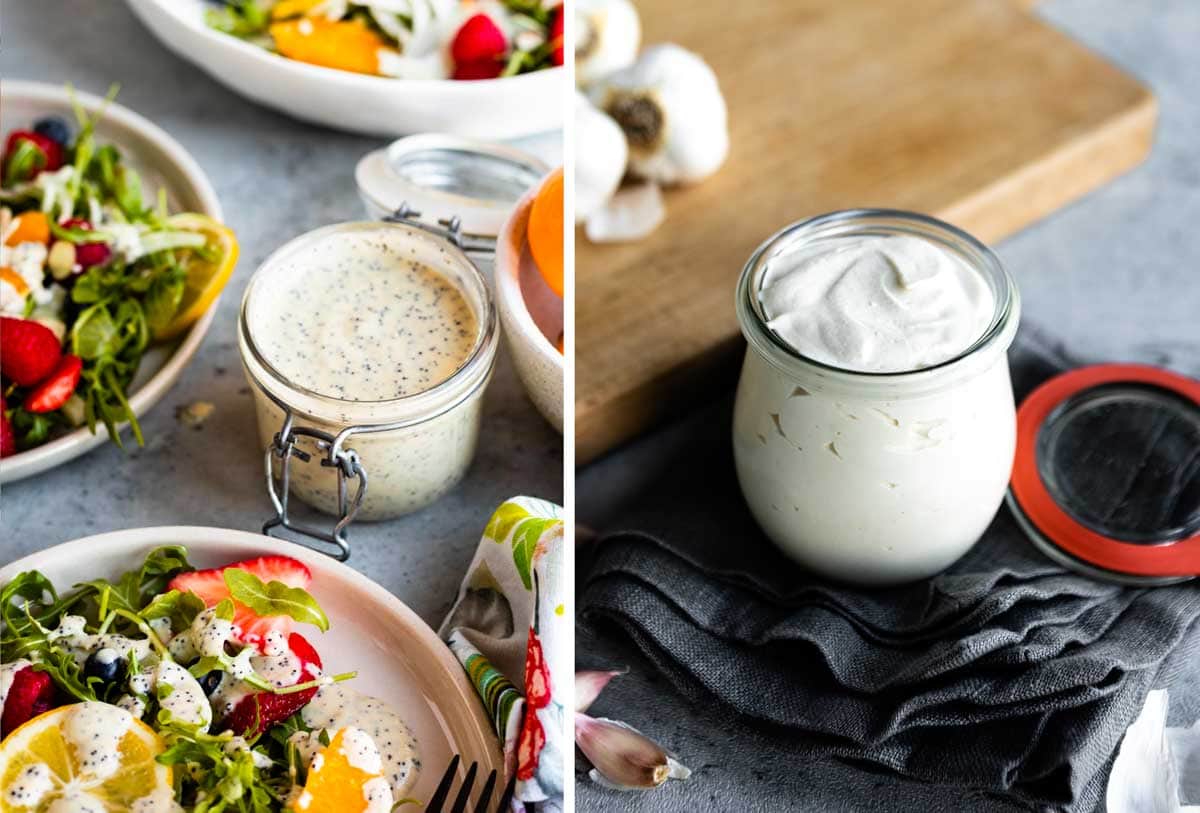 Tips to Meal Prep Salads
Now that our salad prep is coming along, I suggest you decide the recipes you're making and dive in. Start with a base of greens, then add any chopped vegetables, fruit and beans.
In a separate air-tight container, store any dry goods you could use to add some "crunch" to you salad. I love sprinkling pepitas, sunflowers seeds, vegan parmesan cheese and even dried fruit on top. If you haven't learned yet, I like to pile on a variety of toppings to mix up the flavors and textures.
Rawkstar tip: Keep your salad dressing separate until you're ready to eat. Otherwise, you're gonna have a soggy mess— and no one is going to enjoy that.
If you make any of these meal prep salads or use the containers, let me know how it turned out! I'd love to hear what you think in the comments below.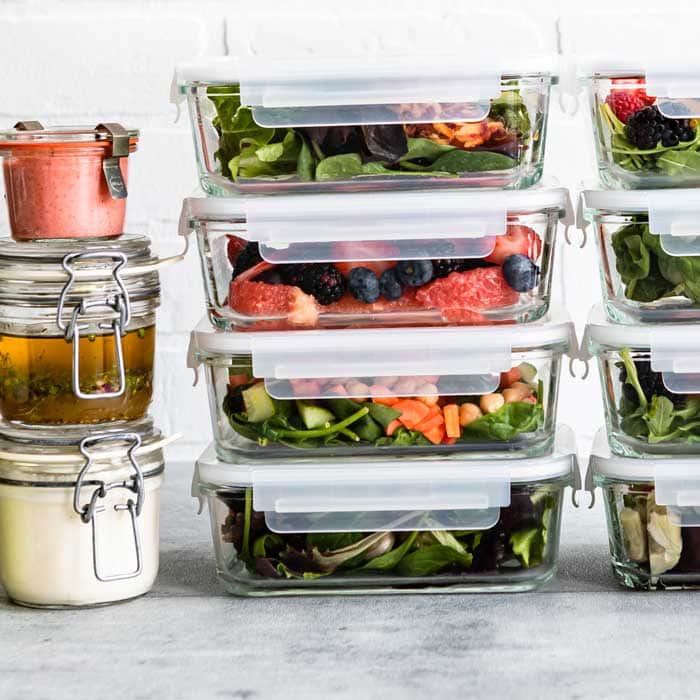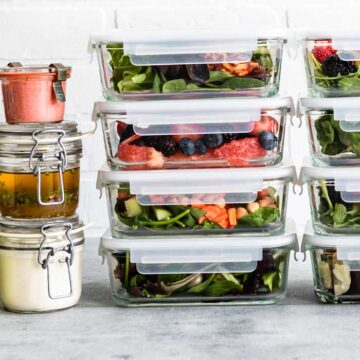 10 Tasty Meal Prep Salads
Rate this Recipe Print Recipe
These hearty, meal prep salads can be made ahead to save you time during the week.
Ingredients
4

cups

mixed greens

1

cup

cucumber

1

green apple

1

avocado

¼

cup

sliced ​​almonds
Strawberry Dressing
1

cup

strawberries

2

.

basil

2

.

olive oil

1

.

lemon juice

2

test

maple syrup

¼

test

sea ​​salt

¼

test

ground black pepper
Instructions
Puree the dressing ingredients in a blender or food processor. Store in airtight container.

Divide salad ingredients between two salad prep containers.

Store in fridge or lunch box w/ ice pack until ready to eat.
Nutrition (estimated)
Calories: 1135kcal (57%) Carbohydrates: 85g (28%) Protein: 21g (42%) Fat: 88g (135%) Saturated Fat: 10g (63%) Polyunsaturated Fat: 14g Monnounsaturated Fat: 58g Trans Fat: 1g Sodium: 646mg (28%) Potassium: 2329mg (67%) Fiber: 29g (121%) Sugar: 40g (44%) Vitamin A: 2538IU (51%) Vitamin C: 161mg (195%) Calcium: 280mg (28%) Iron: 6mg (33%)