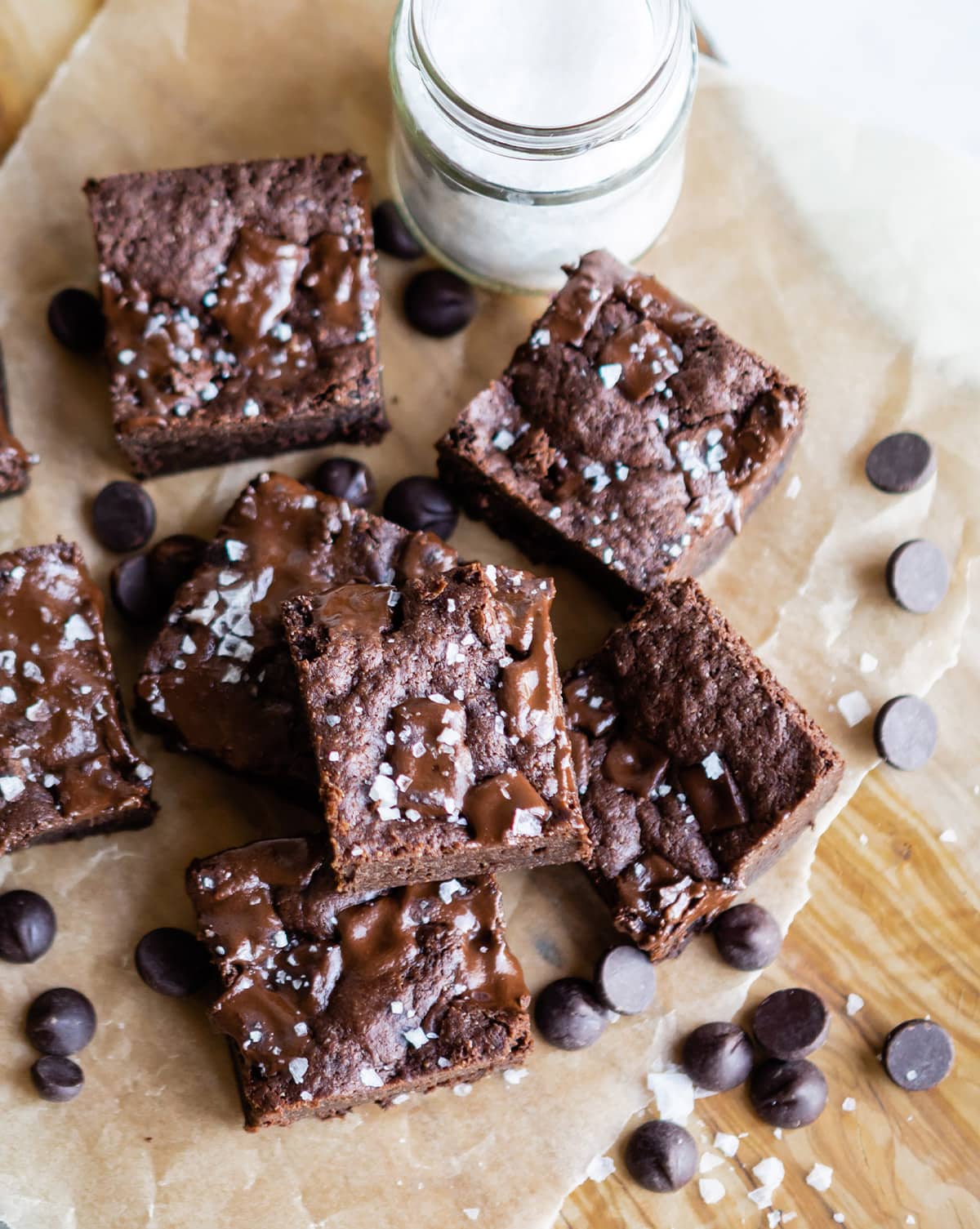 Whether you just want a sweet treat or you're looking to satisfy a crowd, I've got a chocolate dessert that will fix that craving. These healthy chocolate desserts give you the sweetness you want while also giving you natural ingredients you can pronounce.
I believe in a balanced diet, and that balanced diet includes sweet foods too! I don't need all the artificial ingredients or dyes in my desserts. Scroll through the recipes below and pick out your favorites to try this week. Don't forget to let me know how they turned out!
Shareable Healthy Chocolate Desserts
If you're looking for chocolate desserts to share with that special someone, then the following recipes are perfect. The vegan chocolate chip cookies are my favorite recipe, while my husband can't get enough peanut butter fudge.
Fudgy Gluten Free Brownies
Thick, fudgy brownies that also happen to be vegan and gluten-free. (No one will be able to tell!) Loaded with delicious chocolate flavor and a great texture, this Fudgy Gluten Free Brownie Recipe really hit the spot.
MAKE RECIPE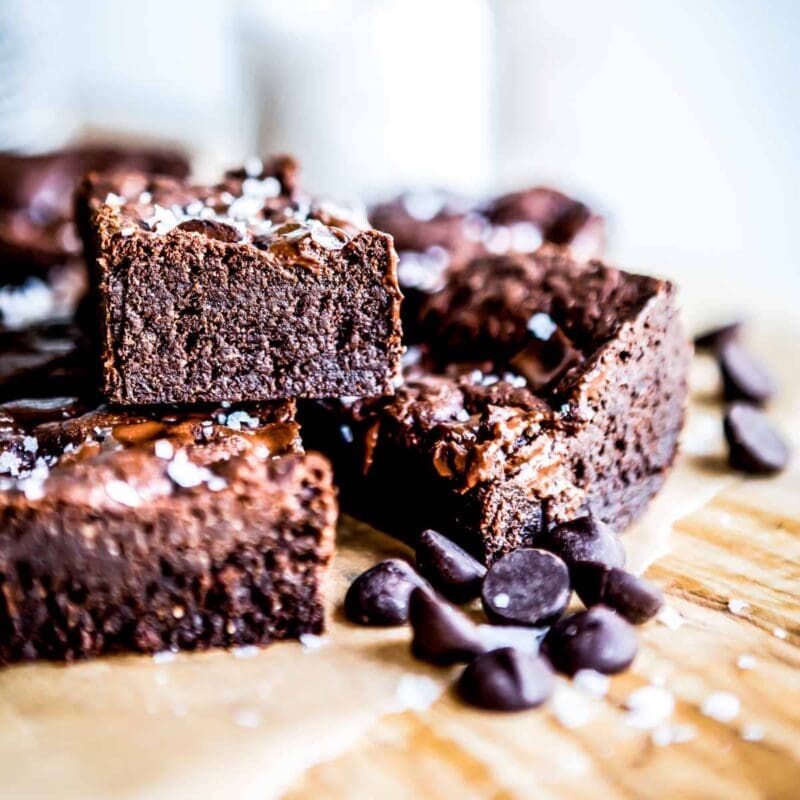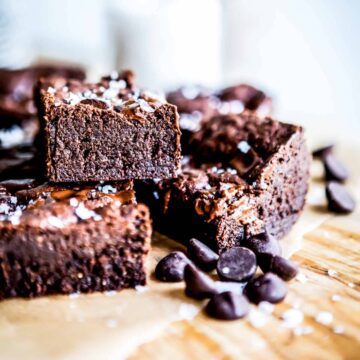 Peanut Butter Fudge- 4 Ingredient Dessert!
You'll definitely wanna include this vegan peanut butter fudge into your holiday menu this year. This decadent recipe is easy to make and provides a beautifully rich treat. Plus, it's only 6 ingredients!
MAKE RECIPE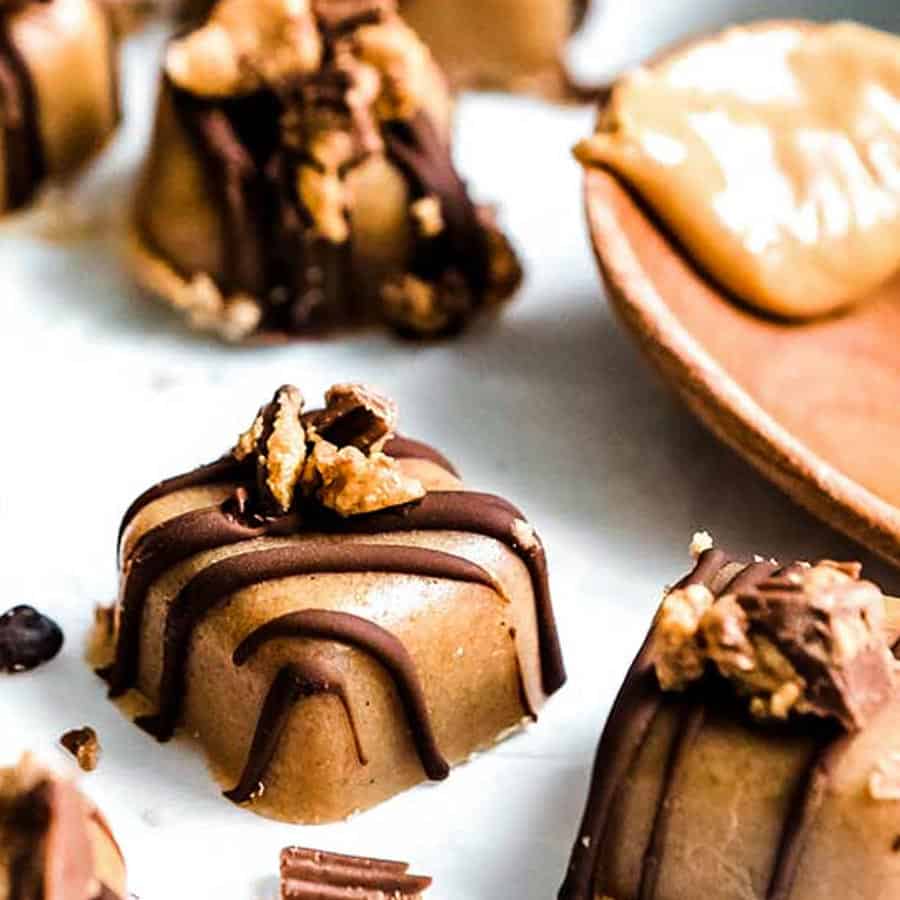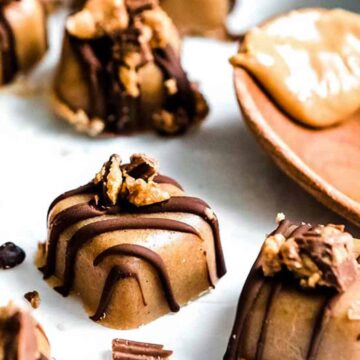 Chocolate Covered Banana Bites
Grab a friend and whip up these delicious bite-sized snacks. Chocolate covered banana bites are super easy to make, and oh so fun!
MAKE RECIPE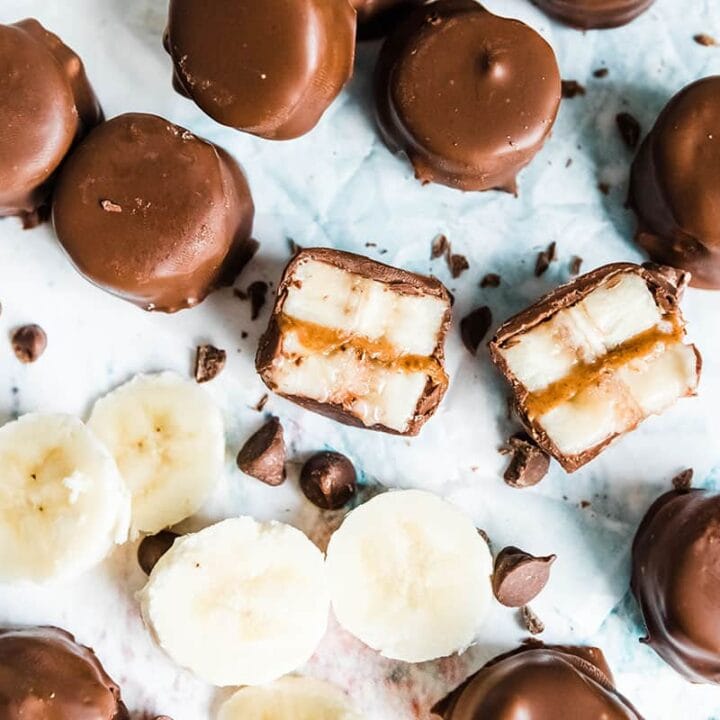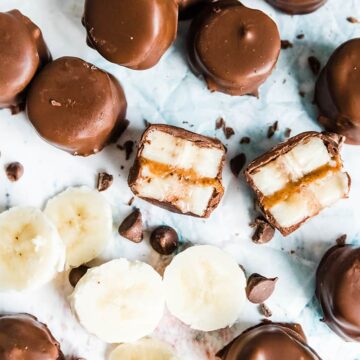 Vegan Chocolate Chip Cookies
These are simply THE BEST vegan chocolate chip cookies around! We've given them another upgrade by adding in toasted coconut (you can buy it or make it) and toasted almonds for extra flavor and crunch. Use your favorite dark chocolate chips and bake up a batch or two. They make great gifts and store well in the freezer for when a craving hits.
MAKE RECIPE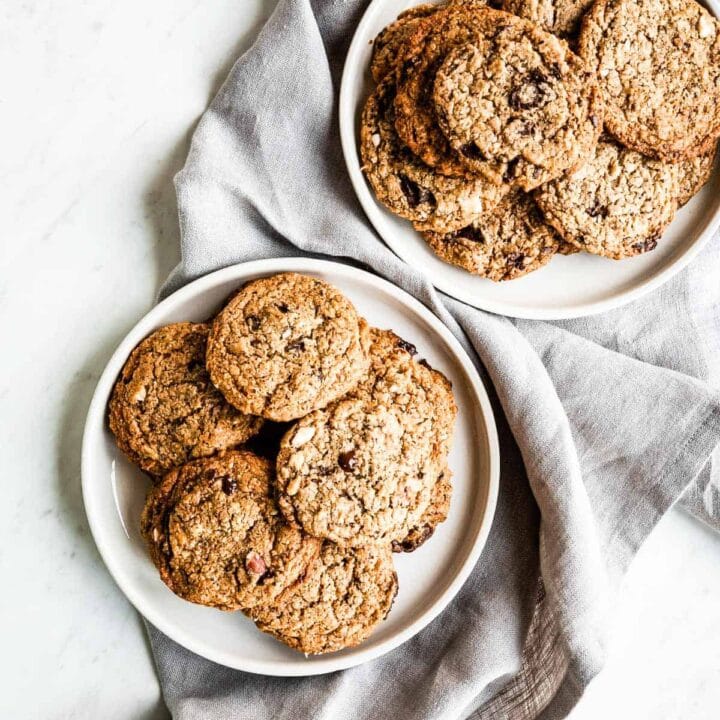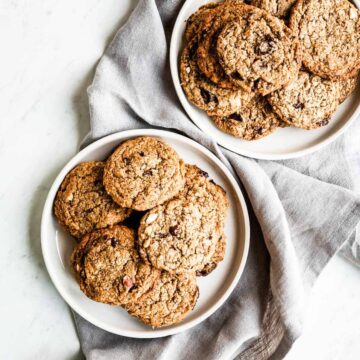 Soft Ginger Cookies with Chocolate Chips
These soft ginger cookies are also naturally gluten free. The flavor of warm ginger shines through thanks to both dried ground ginger and freshly grated ginger. The second best part might just be the pockets of dark chocolate in each bite. These are sure to become a favorite!
MAKE RECIPE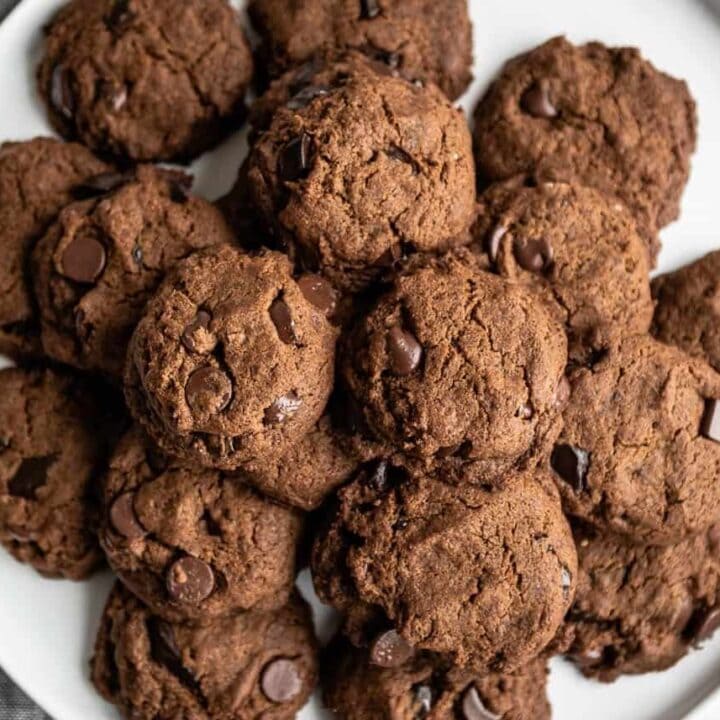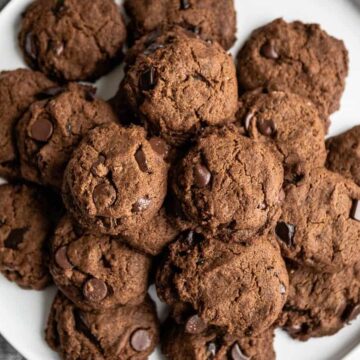 Ultimate Gluten-Free Crepes
Get ready to experience the best gluten-free crepe recipe. The nutty, earthy taste of the quinoa marries well with the homemade chocolate hazelnut spread (hello, healthy nutella!), and fresh fruit. Feel free to use pre-made chocolate hazelnut spread from the store to save time.
MAKE RECIPE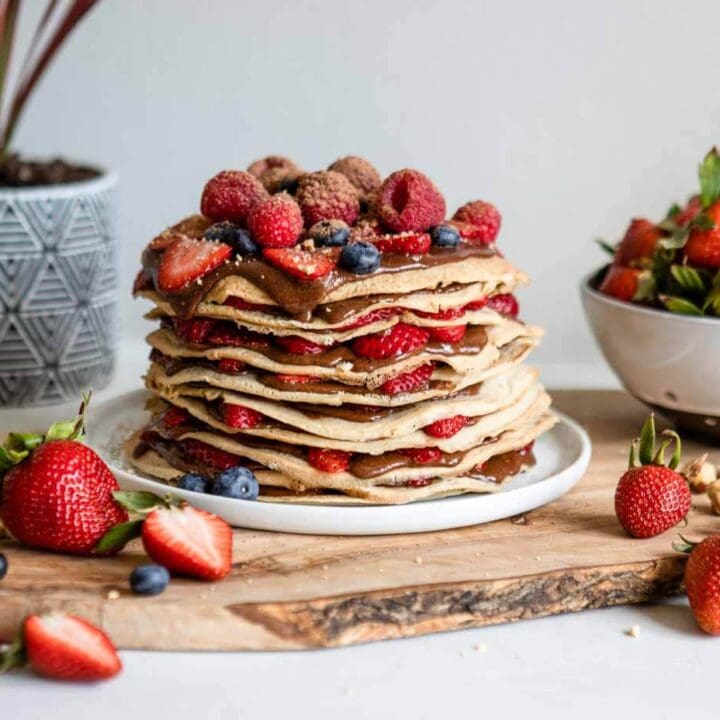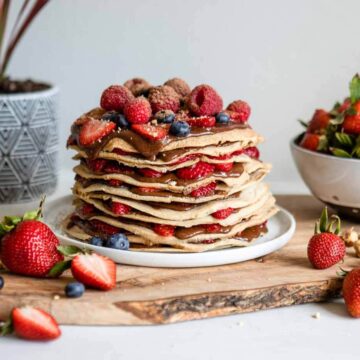 Healthy Zucchini Bread
A fun bread the whole family can enjoy (and help make!). I love that this bread contains a whole cup of veggies, and that it's vegan… though you can't even tell!
MAKE RECIPE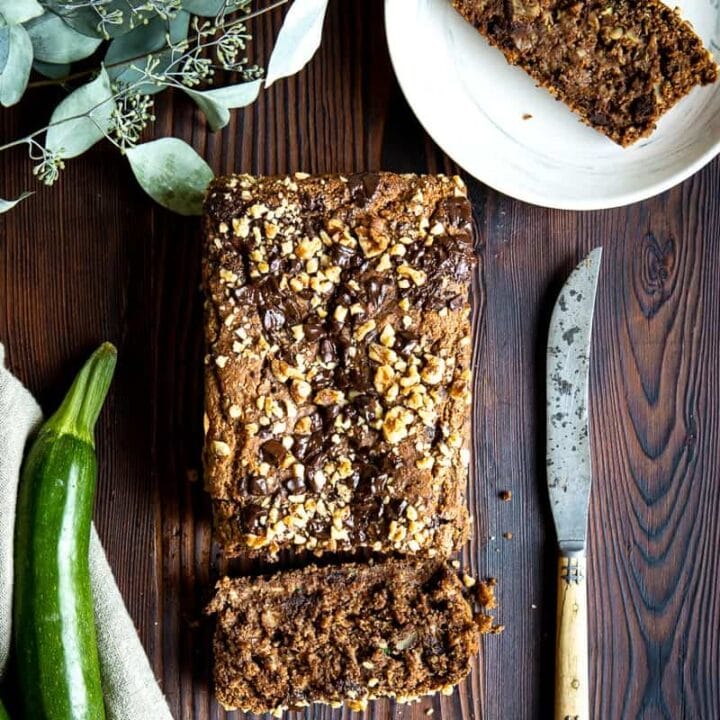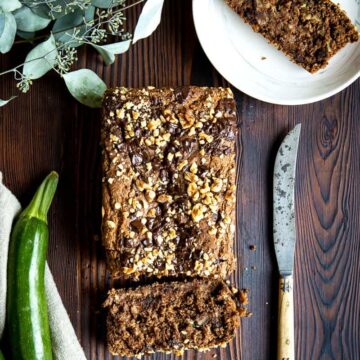 Drinkable Vegan Chocolate Desserts
Mint, nut, fruit… I've got you covered with all the flavors you love pairing with chocolate. Feel free to top these with cacao nibs, extra fruit and coconut whipped cream for a fun and healthy chocolate dessert.
Red Velvet Smoothie
Give your heart a healthy boost with cacao (unsweetened cocoa) in this green smoothie recipe. Serve it in a fancy glass with two straws so you and your loved one can enjoy it together!
MAKE RECIPE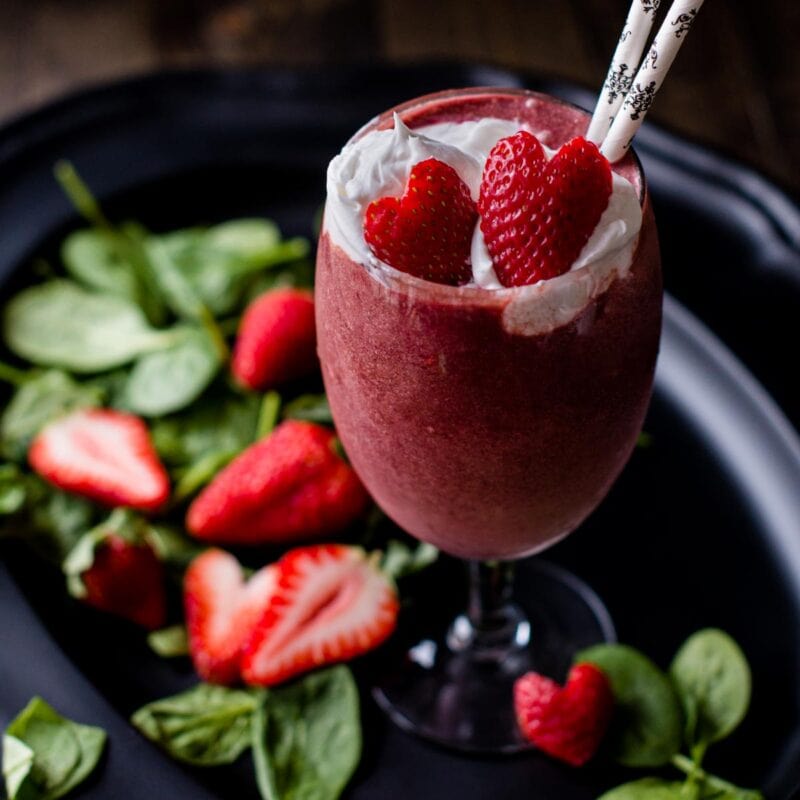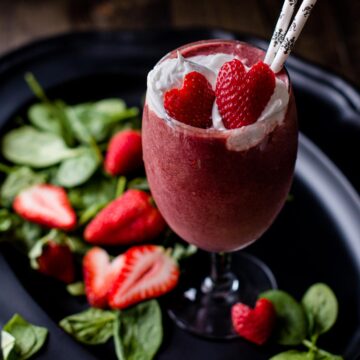 Chocolate Protein Shake
Blend up a creamy, cold chocolate protein shake smoothie made with plant-based superfood protein powder for a delicious meal or snack, or before/after a workout. Includes adaptogens to help ease inflammation.
MAKE RECIPE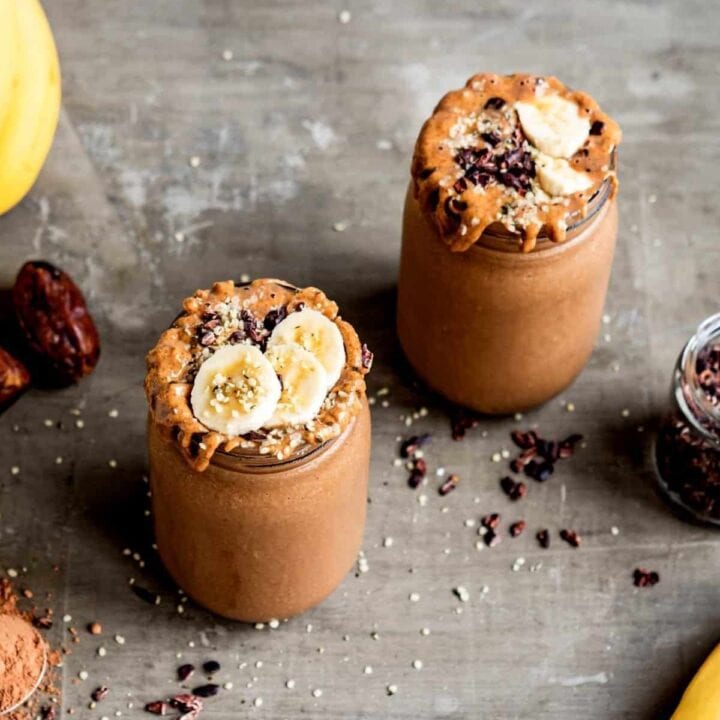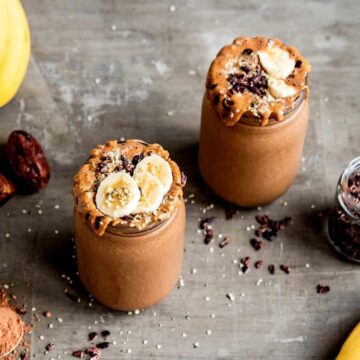 Chocolate Smoothie Bowl
Cacao adds rich chocolate flavor as well as a big boost of iron and other vitamins and minerals coupled with healthy fats to this chocolate smoothie bowl.
MAKE RECIPE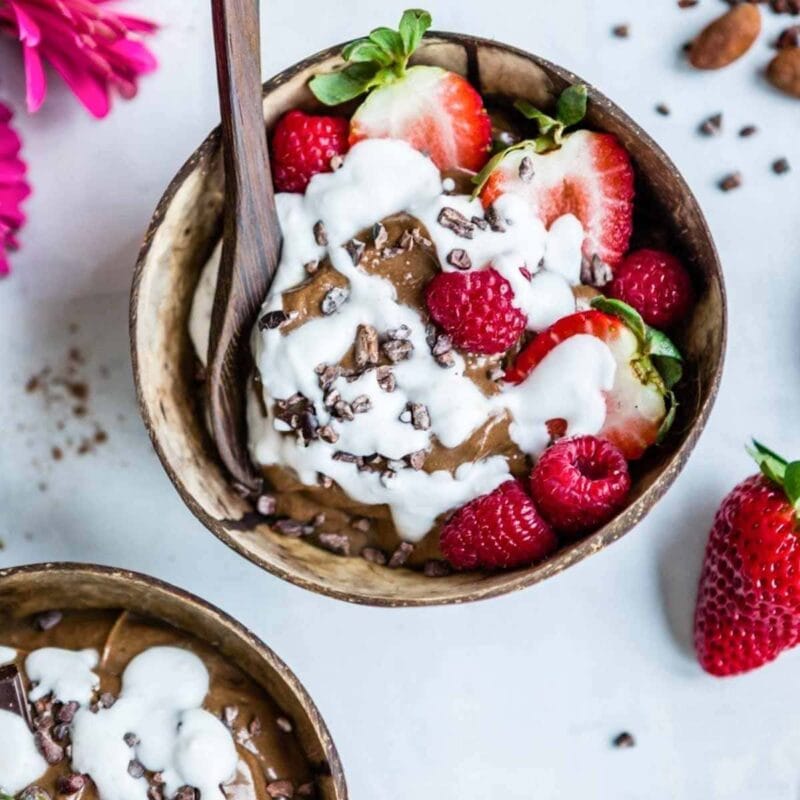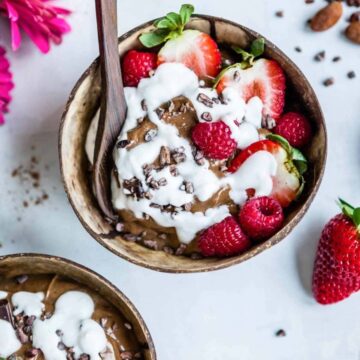 Chocolate Peanut Butter Smoothie
Better than a milkshake! This plant-based peanut butter chocolate smoothie is so creamy and decadent, you'll think it's ice cream. Your body will thank you for enjoying this all-natural, no-sugar-added sweet treat.
MAKE RECIPE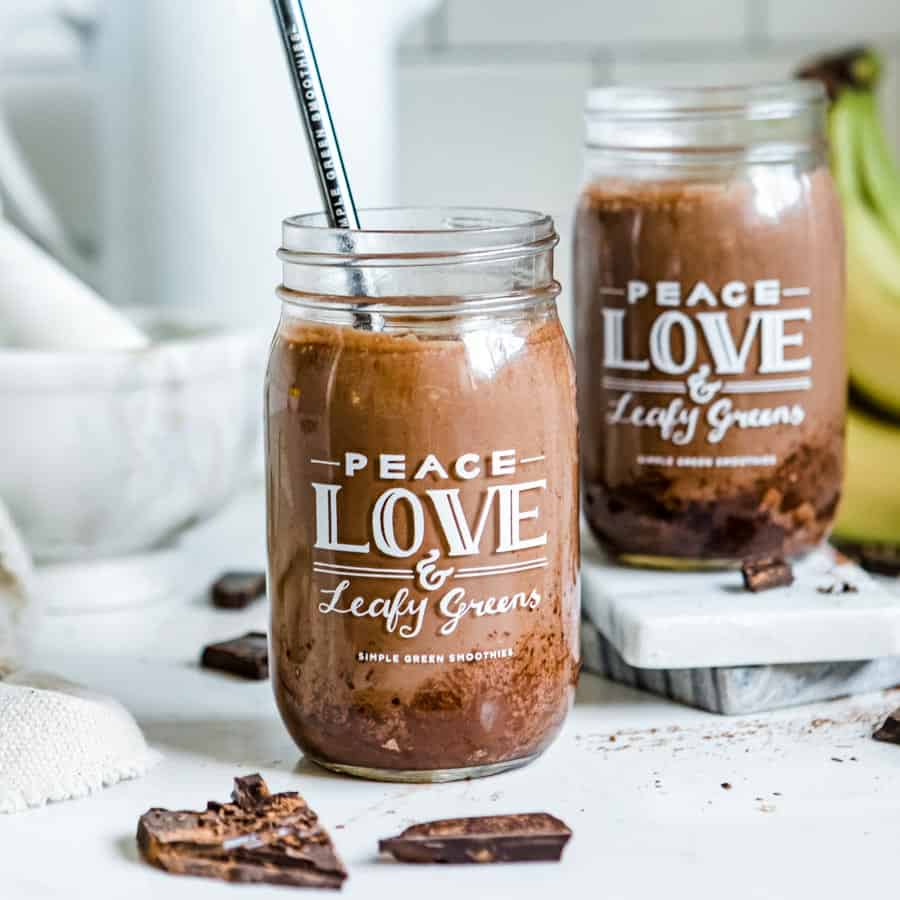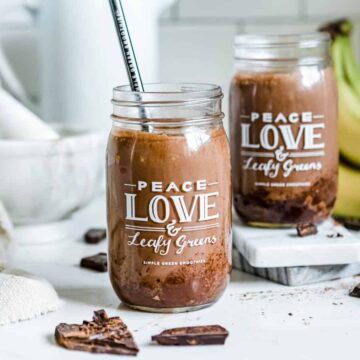 Hot Chocolate Smoothie
This dessert-like smoothie is perfect for a cool day or healthy treat. It's packed with chocolate-y flavor as well as ingredients like spinach and hazelnuts.
MAKE RECIPE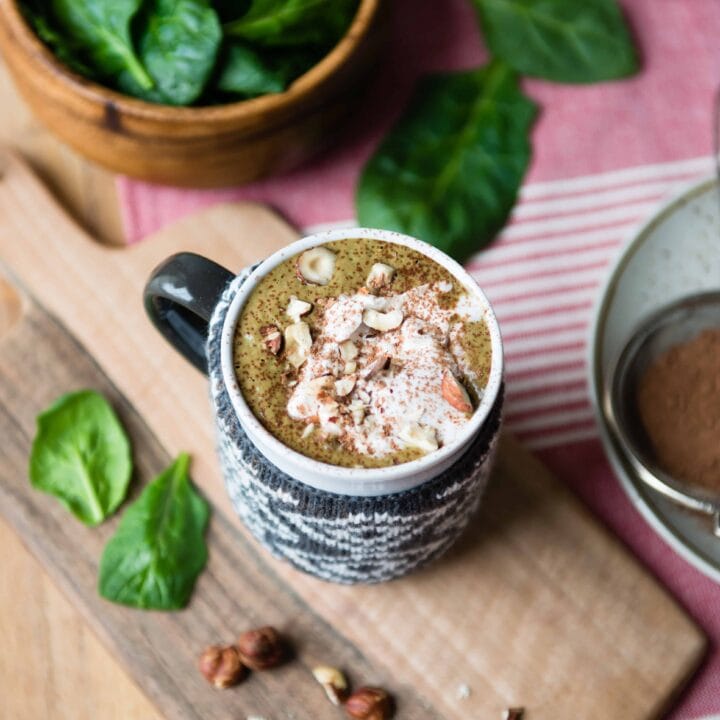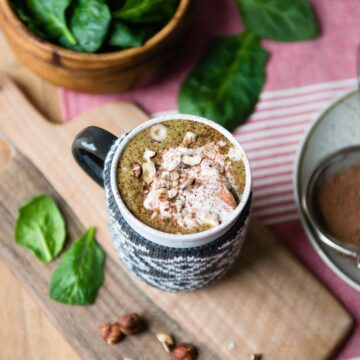 Chocolate Covered Cherry Smoothie
This antioxidant-packed Chocolate Covered Cherry Smoothie is a healthy indulgence that will satisfy any sweet tooth.
MAKE RECIPE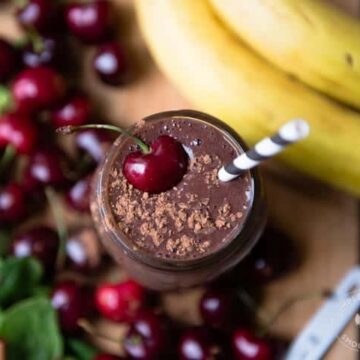 Energizing Mocha Coffee Smoothie
Sip on this cool and creamy coffee smoothie for breakfast or as a mid-afternoon pick-me-up.
MAKE RECIPE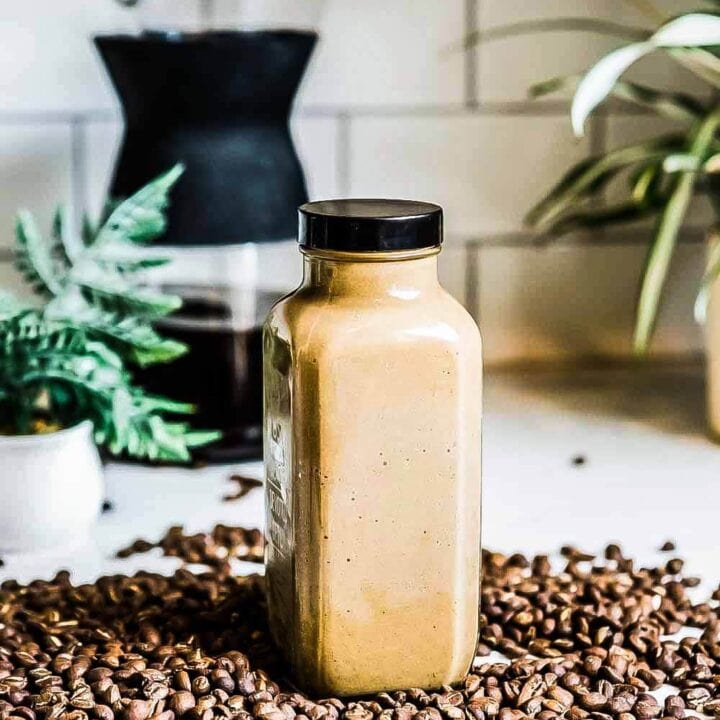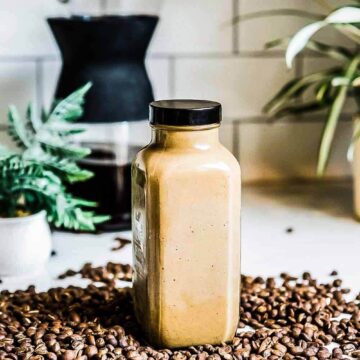 Coconut Joy Vegan Smoothie Bowl
Blend up some plant-based goodness for a delicious, nutrient-rich dessert or snack. The flavors of coconut, chocolate, and almond come together quickly in this vegan smoothie bowl.
MAKE RECIPE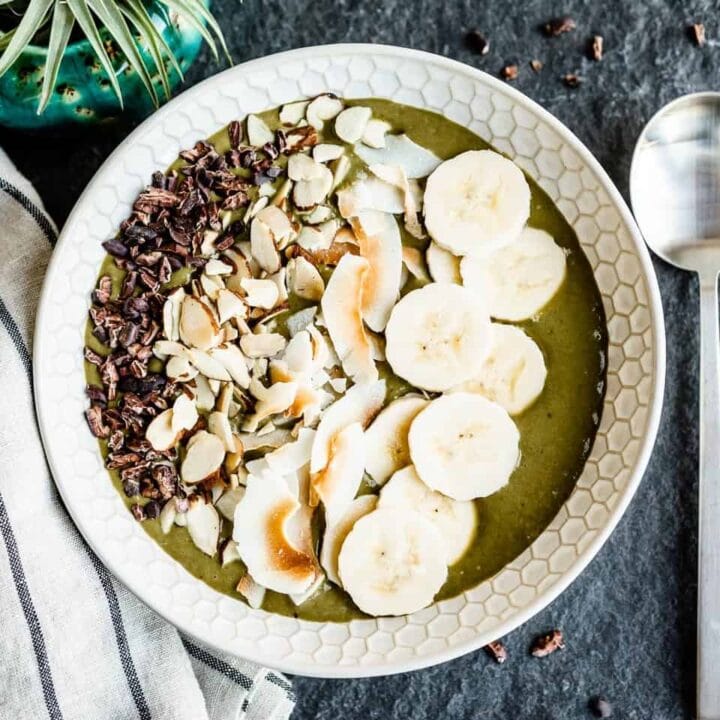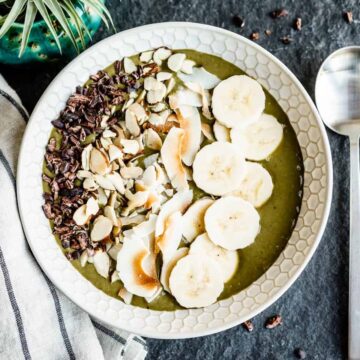 Skinny Mint Smoothie
The combination of cacao powder and fresh mint leaves will give you that chocolatey-mint flavor you've been craving, but instead of packing in the fat and calories, you'll be packing in nutrients from spinach, and avocados! It's really a win-win. When the Girl Scout cravings hit, reach for this smoothie instead.
MAKE RECIPE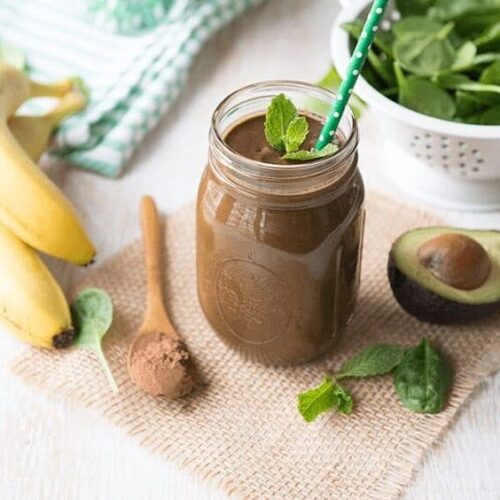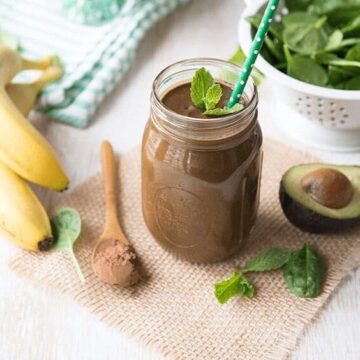 Banana Split Smoothie
Blend up this sweet banana split smoothie and watch your kiddos sip up some leafy green goodness without even knowing it! Top with a spoonful of coconut whipped cream and place a cherry on top for a fun, healthy treat.
MAKE RECIPE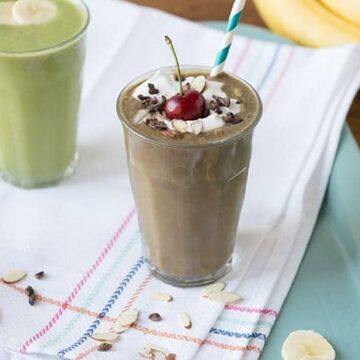 Homemade Hot Chocolate
Take a spin on the classic hot chocolate recipe and not even miss a beat with this homemade hot chocolate recipe. This one is even better tasting AND twice as good for you. Let's cheers to that!
MAKE RECIPE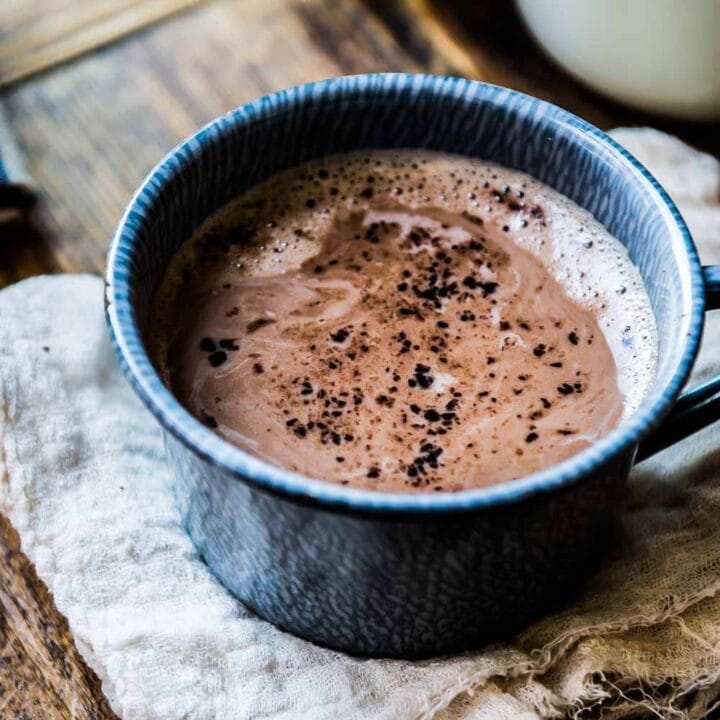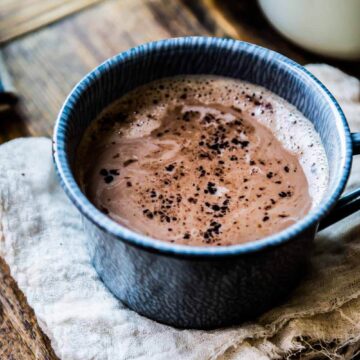 Vegan Dessert FAQs
What dessert is the healthiest?
Choose the dessert that makes you happy, and eat it with no regrets. Seriously! These vegan chocolate desserts are made with plant-based ingredients and, hopefully, love. If you feel guilty about eating something, then don't eat it. Life should be balanced, and it is 100% worth it to me to enjoy chocolate chip cookies with my family.
What is the healthiest chocolate?
Look for dark chocolate with real sugar or natural sweetener in it. There is no need for any weird ingredients or preservatives in your chocolate. Most of these vegan chocolate desserts are made with cacao. Look for unsweetened cocoa or cacao powder.
Can I still have dessert and lose weight?
Honestly, yes. Instead of focusing on weight loss, I look for chocolate dessert recipes made with real ingredients, mostly plants, and taste the best. It's not worth it to me to eat dessert just to eat it. I want to love what I'm eating. I enjoy all the healthy chocolate desserts on this list.
Which recipe are you going to make first? I can't wait for you to share these healthy chocolate desserts with your family and friends; tag @SimpleGreenSmoothies so I can see your lovely creations!